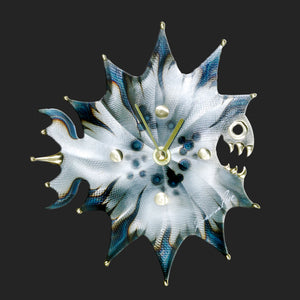 www.richardpell.com
STAR FISH ANGRY CLOCK
Regular price
$22.40
$0.00
Unit price
per
Star Fish. Angry. Wall Clock. 17cm Wide.
With this big cheeky grin this fish clock will go a long way. The spikes represent the hours and each piece is signed.
HALF PRICE: I have some as slight 2nd's/ex-display, these have a small scratch or rust spot. Once displayed it is hard to notice the mark.
Display on the wall using a small nail or drawing pin.
Cut from sheet steel and then skilfully worked by the artist.
Light reflective effects with bronze highlights.
Handmade in Great Briton in Richard's workshops
Every piece is signed and unique.
Coloured with heat by carefully using a welding torch flame.
Lacquered to protect for indoor use.
---